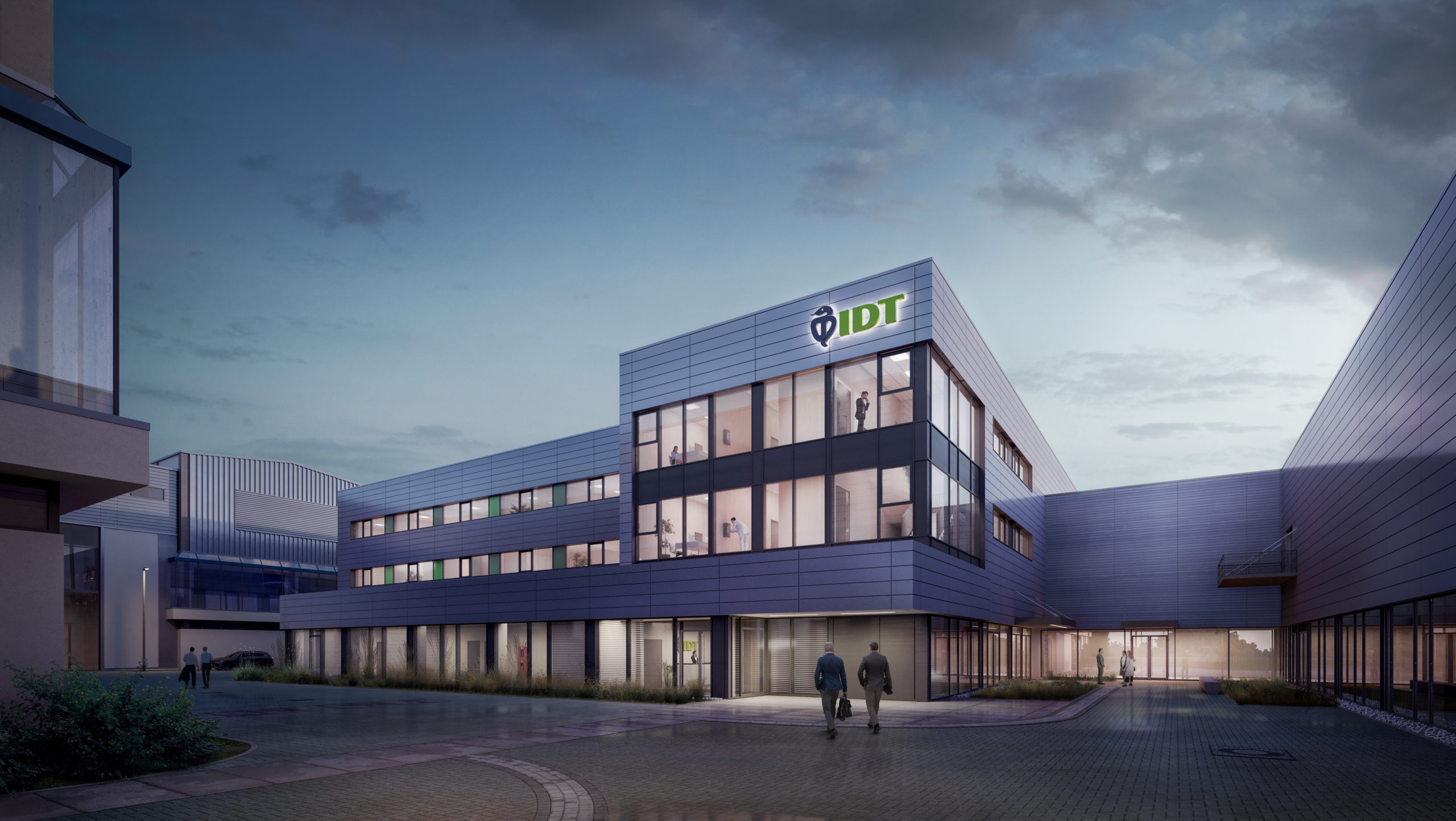 Ask us for our new available Capacities
In order to keep up with market demands and new therapeutic areas we are proud to unveil our groundbreaking manufacturing solutions by offering the latest technology and setting up new compliance driven capabilities in drug substance manufacturing, aseptic liquid fill-finish, automated visual inspection and packaging. With these exciting investments, we are able to provide our customers' products even more flexibly, quickly and on an even higher quality standard.
Drug Substance Manufacturing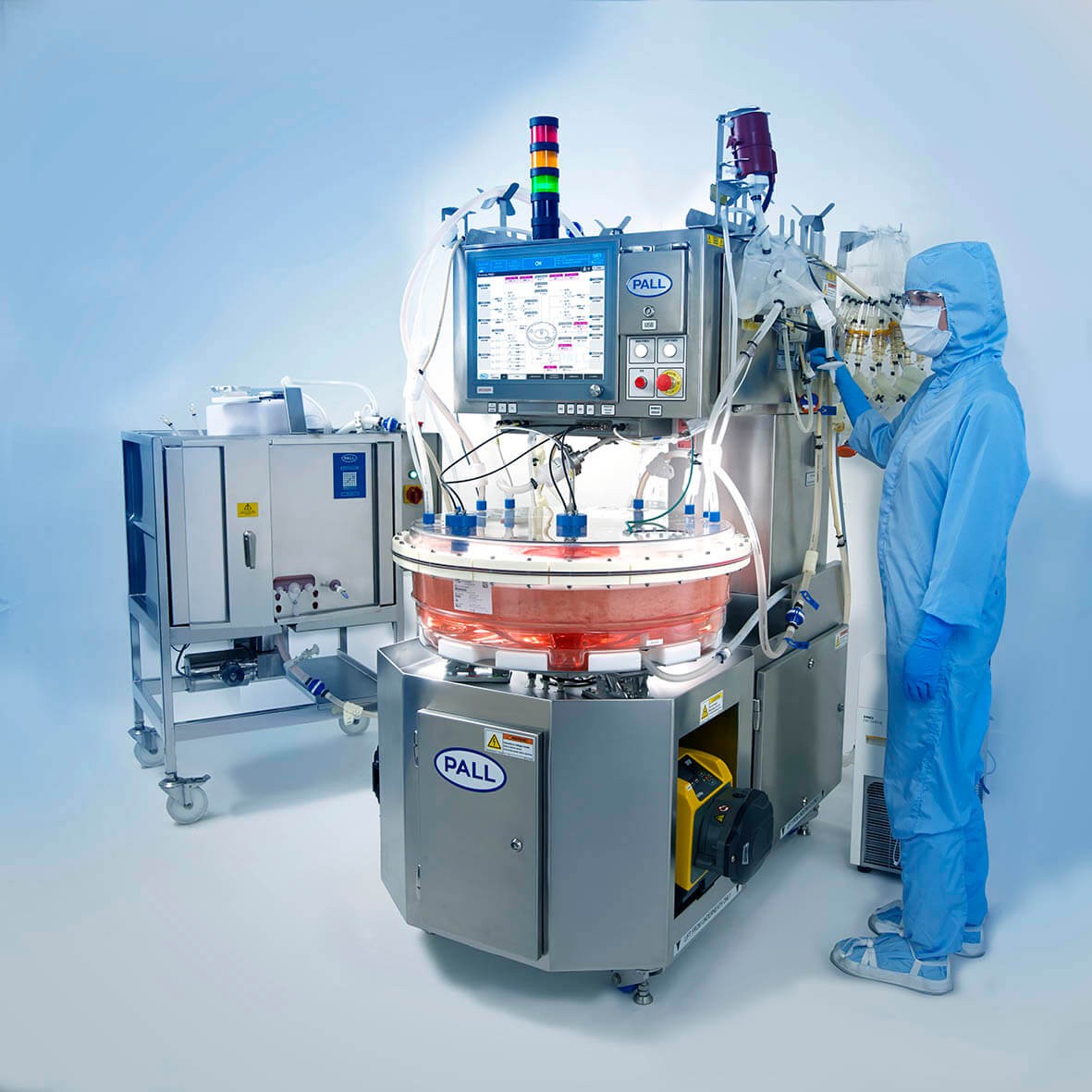 Courtesy of Pall GmbH
IDT Biologika is moving rapidly with the setting up of an advanced new drug substance manufacturing facility at its company site.
The new vaccine facility houses production rooms with up to six 2.000 L bioreactors for late-stage and commercial products as live viral vaccines, viral vectors for cell and gene therapeutics and oncolytic viruses. It ensures a great flexibility in upstream and downstream technologies.
By enhancing drug substance manufacturing, IDT Biologika also sets a landmark in terms of quality. Four iCELLIS 500® will be installed to manufacture adherent cell cultures.
Learn more about our Drug Substance Manufacturing
Fill/Finish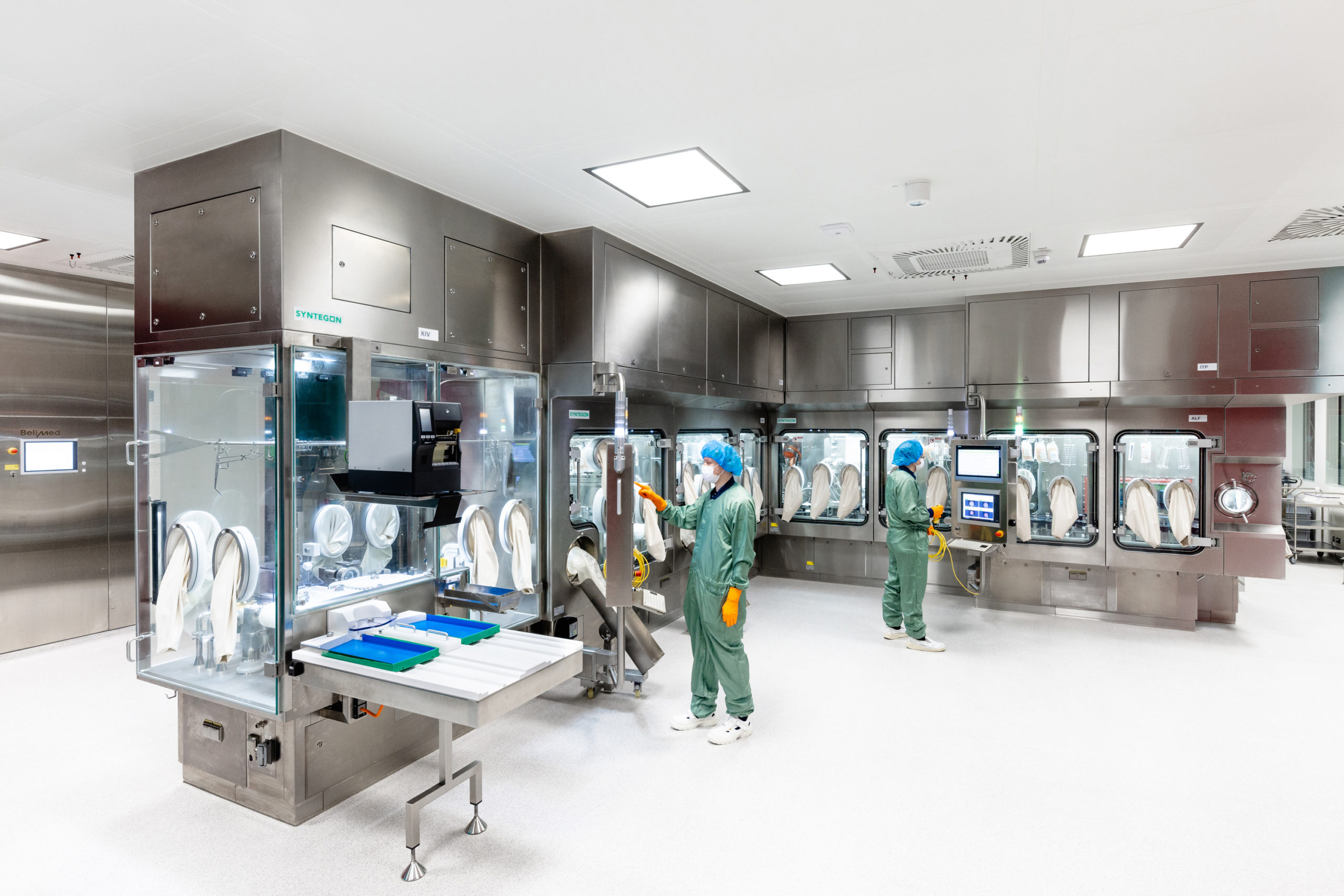 Aseptic filling in vials and pre-filled syringes as well as lyophilization of vials are core competencies at IDT Biologika.
For handling the expected surge of capacity needed for vaccines, IDT Biologika is expaning its fill-finish capacities for 2R, 6R and 10R vials by a further dedicated state-of-the-art plant for aseptic liquid filling of late stage and commercial products up to BSL-2.
The line is one of the fastest in the world. With the capability to fill up to 80 to 100 million 2R vials per year and batch sizes of up to 500,000 2R vials (depending on bulk volume) we offer our clients a new contract manufacturing level.
The new high-speed filling line processes active products as
Viral vector vaccines
mRNA and DNA vaccines
Attenuated viral and bacterial vaccines
Inactivated vaccines
Toxoid and subunit vaccines
Virus-like particles
Biologics such as monoclonal antibodies
Oncolytic viruses
Viral vectors for cell and gene therapeutics
A new filling line for pre-filled syringes is also currently designed and will be available in the near future.
Learn more about our Aseptic Fill-Finish & Lyophilization
Visual Inspection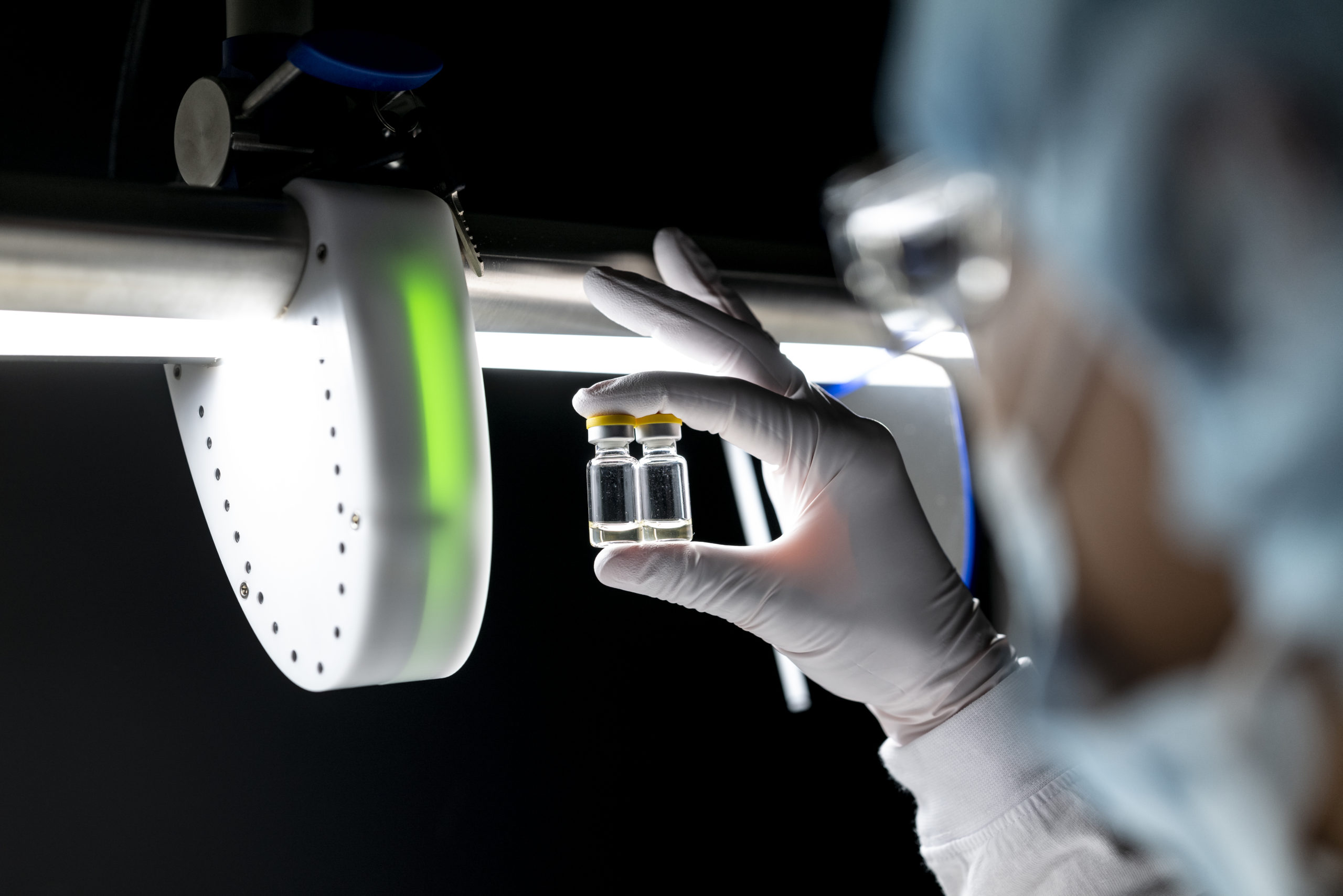 A high performance automated visual inspection line with a capacitiy of 36,000 2R vials per hour complement our fill-finish capabilities – especially for large batch sizes and commercial supply.
Packaging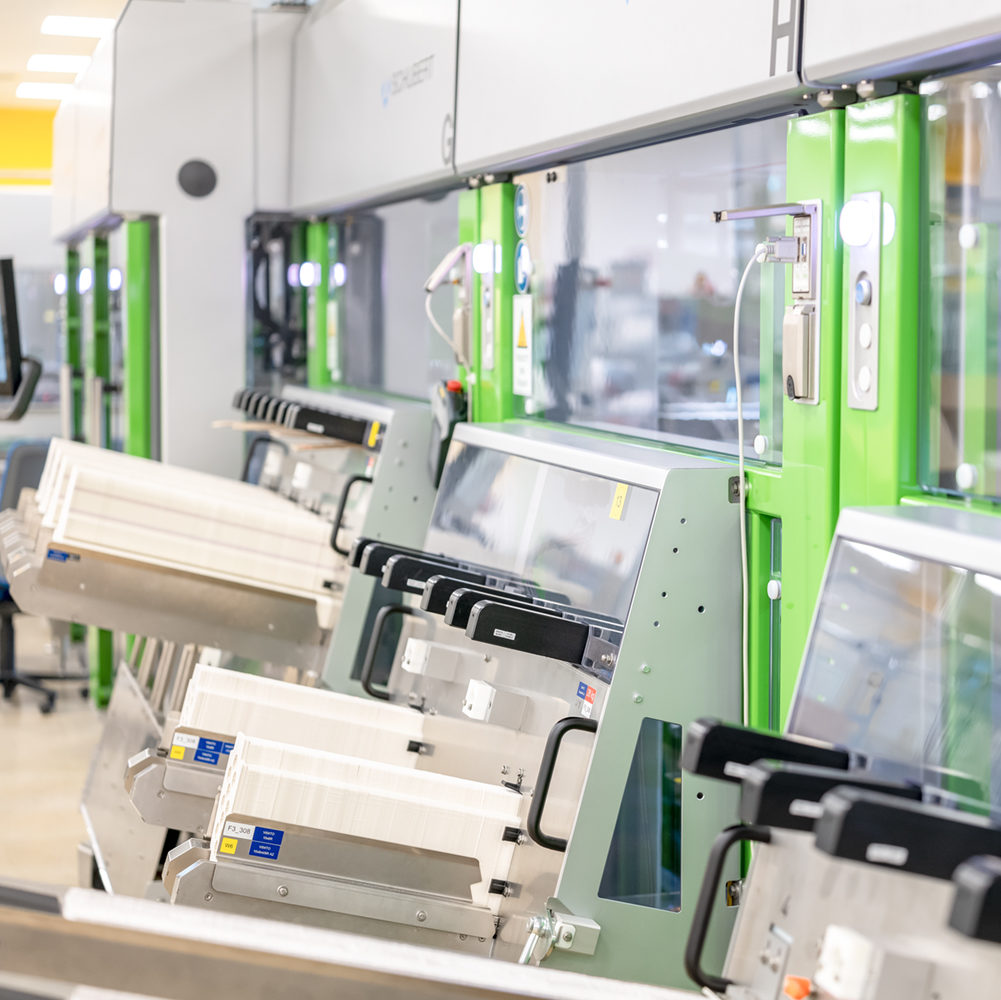 As contract manufacturer for the whole value chain of biologics production, the expanison of our packaging dimensions is a consequential step to the enlargement of our fill-finish capabilities. We support integrated or standalone clinical and commercial packaging.
Learn more about our Packaging