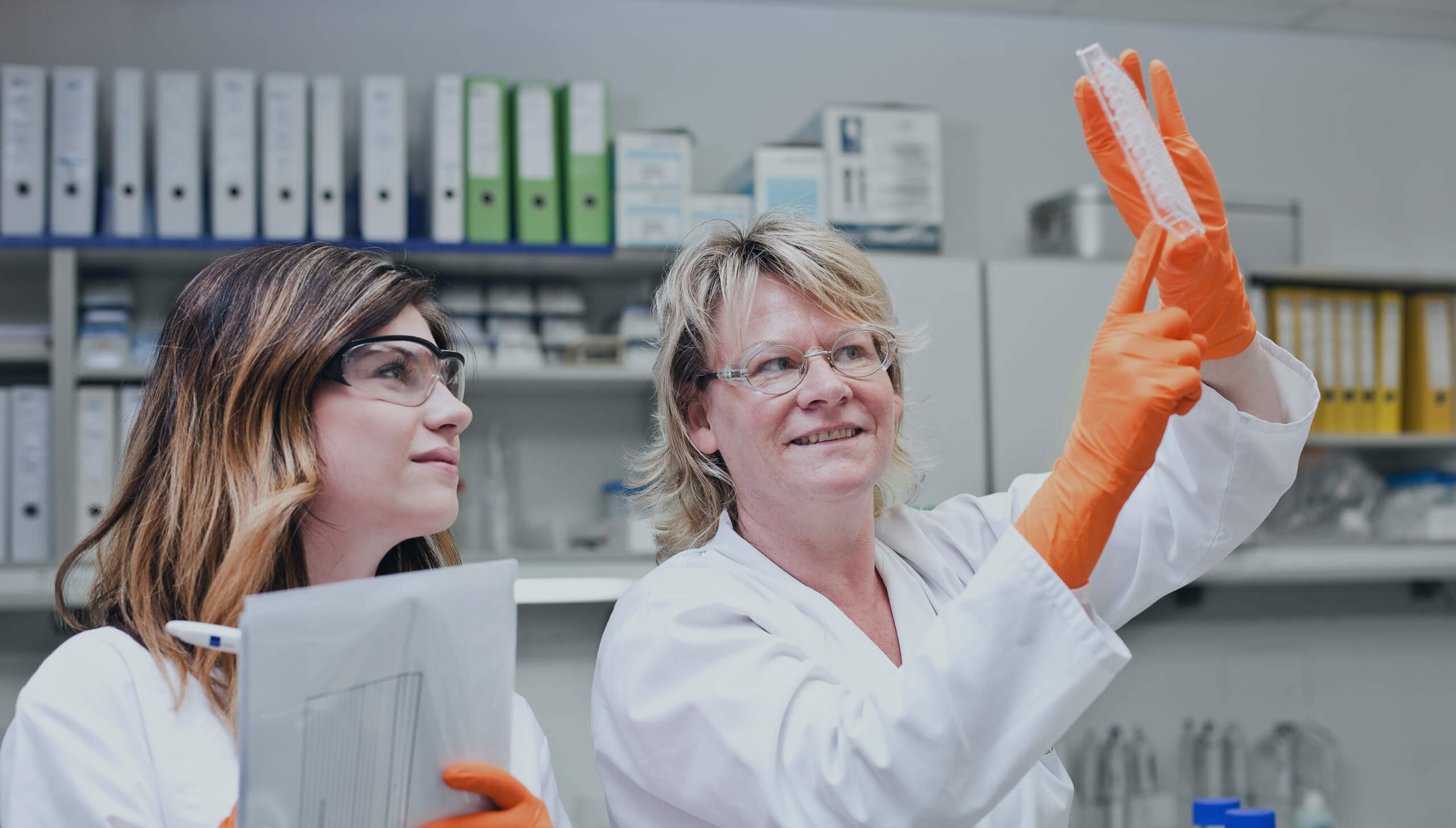 Quality Control & Analytics
As one of the leading global vaccine and viral vector contract manufacturing companies, IDT Biologika supports these activities with robust quality assurance and analytical services. These departments are closely integrated, collaborative, and have state-of-the-art laboratory space at their disposal.
Quality Integration and Quality Oversight
At our biologics manufacturing site in Dessau-Rosslau, Germany, our quality department is integrated into production activities. A Quality Shop Floor Team supports production on-site with hands-on experience and supervision of critical process steps. Close cooperation of quality experts with manufacturing and engineering activities is key to a reliable supply of high-quality vaccines and pharmaceuticals. Therefore, experts leading root cause investigations and maintaining Quality Oversight are located within manufacturing buildings. This makes internal communication and exchanges with clients very fast and to-the-point.
IDT Biologika's Quality Oversight system is based on the constant monitoring of all relevant GMP guidelines. New developments are integrated into the Quality Systems of IDT Biologika to keep all manufacturing activities compliant with regulatory requirements. Transparent collaboration with clients is a key aspect in ensuring compliance to regulatory filings as well.
Quality Risk Management forms an integral part of the Quality System and is deeply ingrained in the internal quality processes. A professional Audit Management Team takes care of all client audits and authority inspections to provide the best possible presentation of IDT Biologika. The approach to quality is universal but fully considers different regulatory requirements at our locations in the U.S. and Germany. IDT Biologika supports product release by Qualified Persons (QP) in Europe and Quality Assurance release in the U.S.
Quality Control
Our Quality Control and Analytical Development Teams support a wide array of analytical technologies needed to develop novel assays for the characterization, release, and stability testing of early-phase vaccines, gene therapy vectors, and protein therapeutics.
We have well-established specifications for starting materials, and release of drug substance and final drug product. We also conduct comprehensive accelerated and long-term stability programs for our customers.
Sample Management and Analytical Services
An electronic sample management system, which is integrated into internal logistics, keeps track of all samples taken and provides temperature-controlled delivery to quality control laboratories. Quality control supervises all sampling activities for incoming goods, in-process controls, and product release. This includes AQL testing in visual inspection.
In IDT Biologika's laboratories, a comprehensive spectrum of validated analytical methods for biological, microbiological, physico-chemical, and molecular biology methods is maintained on state-of-the-art equipment. These enable us to conduct all the testing required by contract manufacturing clients' processes according to EP, USP and JP. Our team has experience with approximately 1,500 internal methods. For very specialized methods, a network of several qualified contract control laboratories supports IDT Biologika where necessary.
De novo method development in early-phase projects is a core competency of the Analytical Development Team at IDT Biologika. Growth of analytical and process knowledge over the product lifecycle is reflected in the individual method development plans to ensure the appropriate level of method qualification and validation from early toxicology material.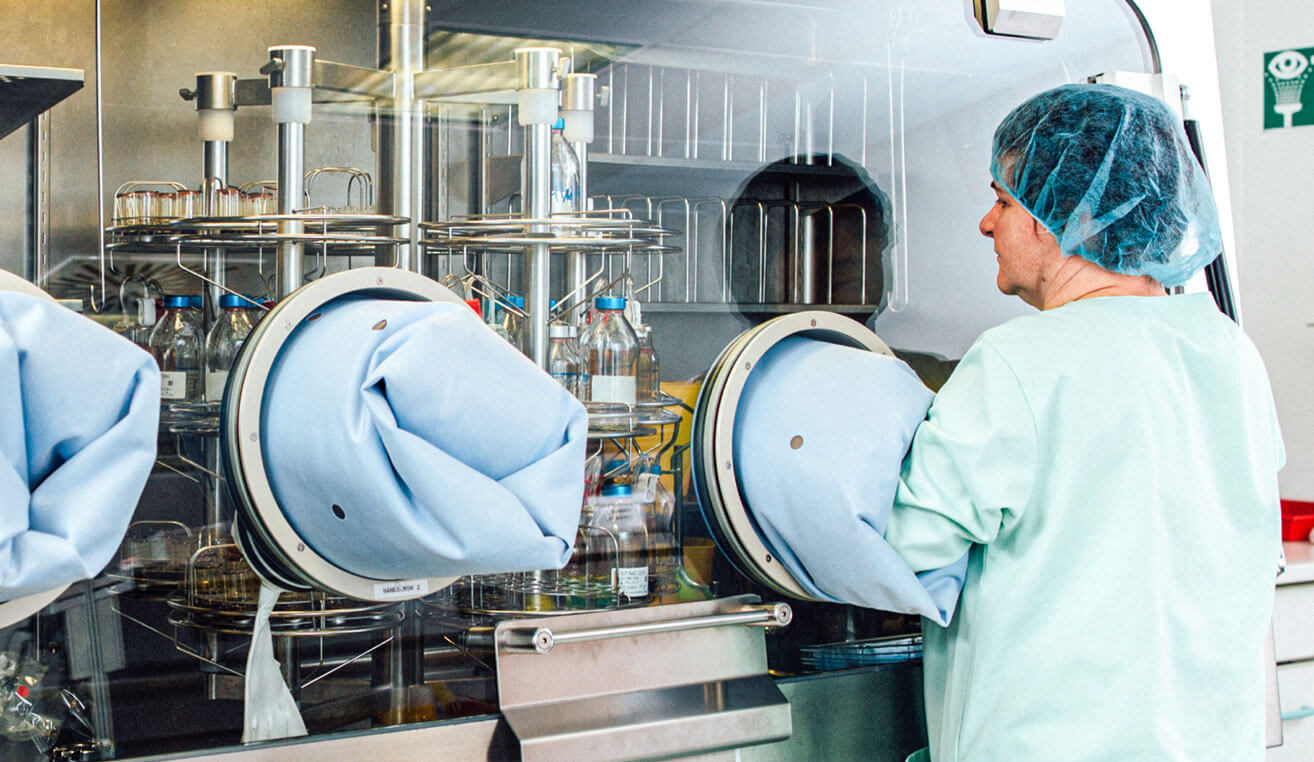 QC Functions
In cooperation with our Analytical Development Group, we provide continuous development of innovative analytical methods such as qPCR/dPCR, next-generation sequencing (NGS), fluorescence-activated cell sorting (FACS) analysis, lighthouse analytics, and virus-based titration assays. We offer in-depth expertise in analytical method development, method transfer, optimization, verification and validation.
Stability Studies
IDT Biologika's stability chambers are LIMS managed and monitored around the clock. We offer freezers, rooms, refrigerators and cold stores with stability protocols according to ICH and client specifications.
We invested over €2 million in upgrading our extensive cold chain storage capacity for products that require temperature ranges from +20°C to -80°C, with monitored and controlled airflow, temperature, and humidity to maintain reference and retain samples according to Annex 19 EU GMP and conduct stability studies according to ICH guidelines.
This enables us to meet all internationally harmonized guidelines for stability testing, with all combinations of humidity and temperature. We have plans to further expand this capacity.
Analytical Services
Method Implementation & Validation
Raw Material Testing & Release
In-Process Testing 

(Viral, Bacterial, Protein & DNA)
Cleaning & Validation Analytics