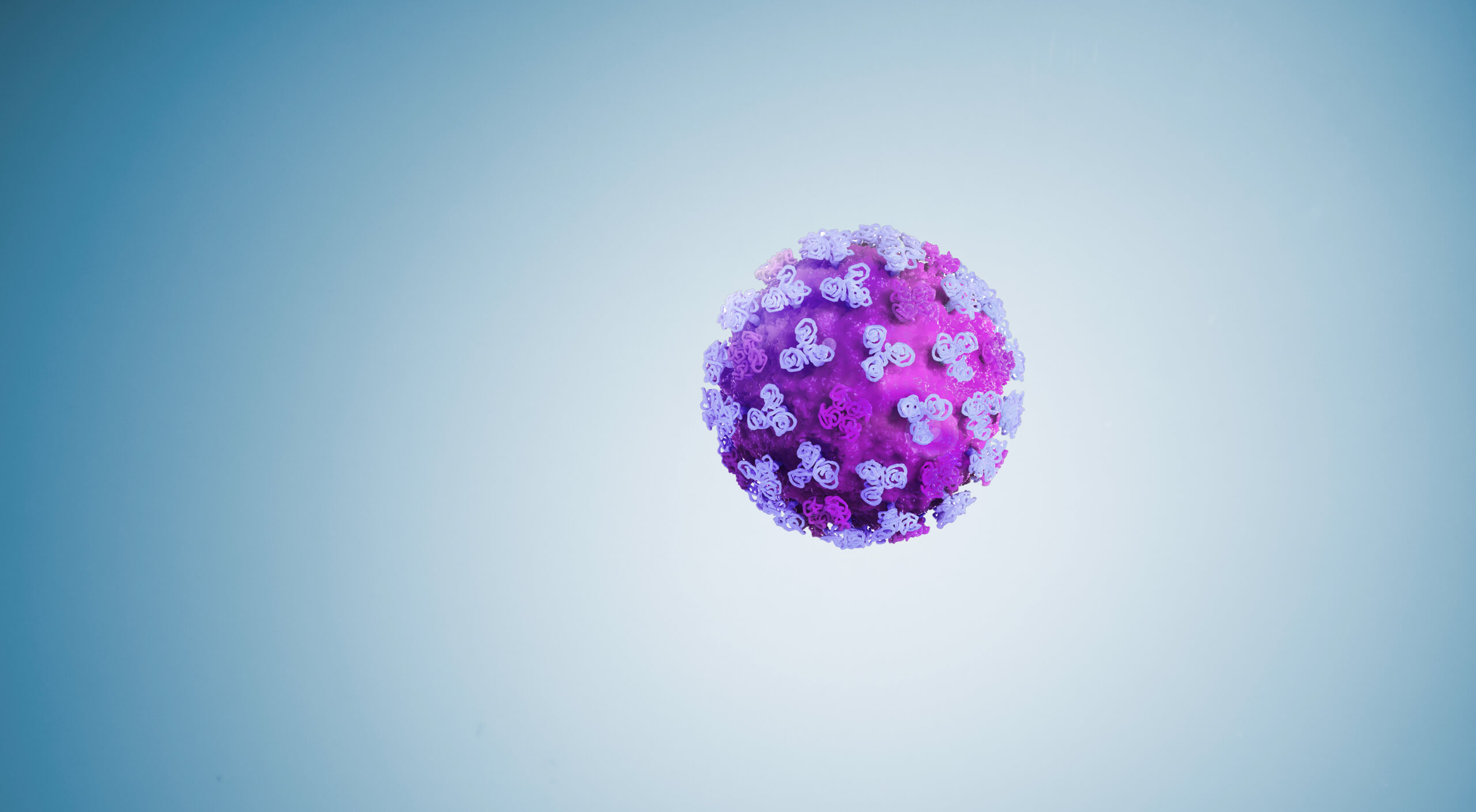 IDT Biologika is a leading vaccine CDMO that offers pharmaceutical companies a full range of end-to-end contract services from process development to clinical and commercial GMP manufacture of live virus drug substance at BSL-2, aseptic liquid filling, lyophilization, and secondary packaging.
100 Years of Experience at Work
In 2021, IDT Biologika is celebrating 100 years in the manufacture of vaccines. This incredible legacy is the foundation of unparalleled expertise that goes into development and manufacture of clients' products. Many vaccines developed by IDT Biologika with pharmaceutical manufacturing companies over the last two decades are used to protect human populations from infectious diseases such as tuberculosis, AIDS, malaria, Dengue fever, Ebola virus, and cancer. Naturally, we are also involved at the forefront of vaccine manufacturing to overcome the global challenges of the COVID-19 pandemic.
Learn More About Our 100 Years In Vaccines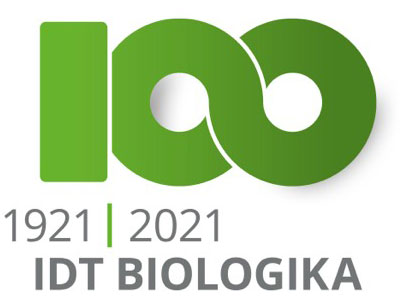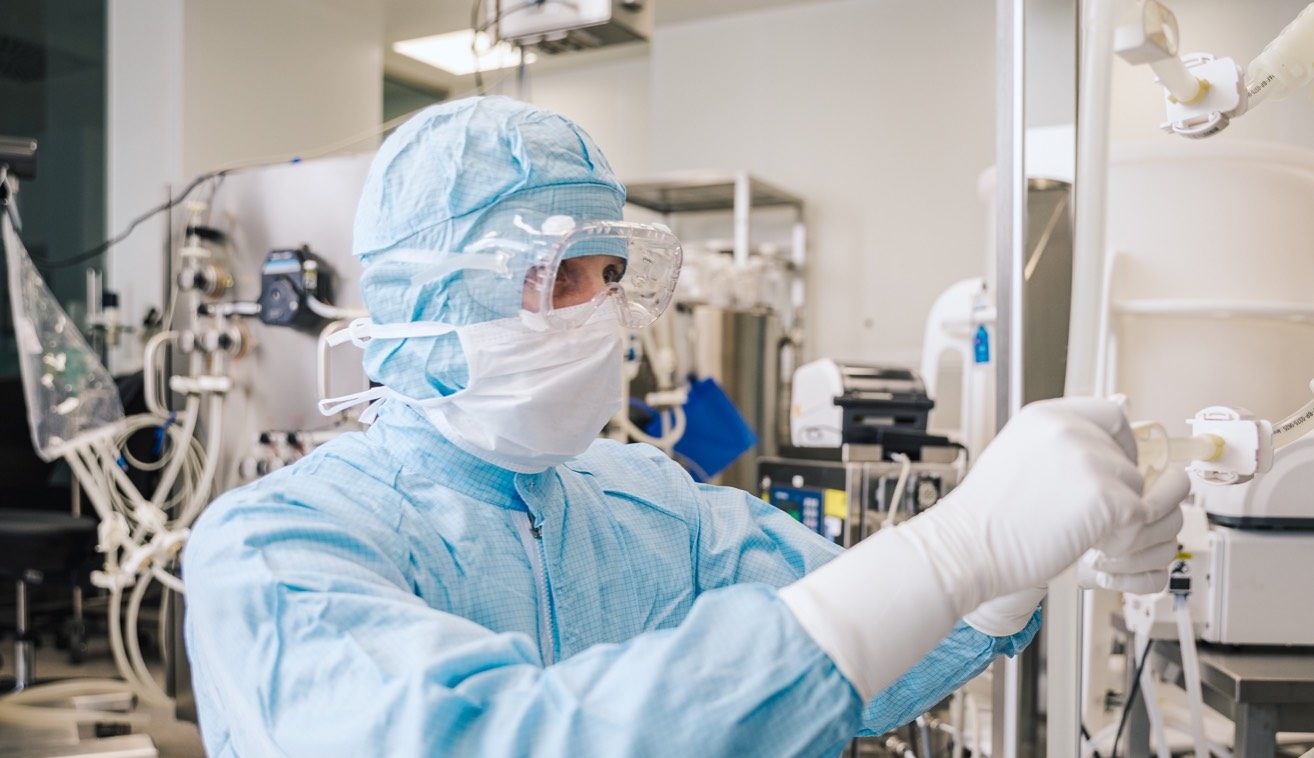 We are highly involved in the latest developments and use of recombinant and non-recombinant prophylactic live viral vectors for cell and gene therapeutic use. Major viral platform vectors are:
MVA / Vaccinia Virus
Orthopoxvirus
Adenovirus
Avipoxvirus
Vesiculovirus
Measles Virus
Lyssavirus
Herpes Simplex Virus
Baculovirus
Morbillivirus
Retrovirus
Arenavirus
Cytomegalovirus
Process Development
At IDT Biologika, our unparalleled experience in processes based on live viruses is used in every project to find the best ways of optimizing product development for our clients in preparation for clinical manufacturing. We have developed a strong understanding through our work with hundreds of processes and offer comprehensive support in terms of GMP, quality assurance, analytical methods, and regulatory requirements. We offer virtually every technology that has been used in the development of processes for viral vaccines, enabling us to offer unparalleled freedom of choice in finding the best options for your product.
Learn More About Our Process Development Services
Process Transfer
For customers that have completed initial development work or are already in clinical stages when they come to us, we offer expertise in process development and process transfer, ensuring a seamless, risk-mitigated move of your product and process to IDT Biologika.
Clinical & Commercial Drug Substance
Our expertise in multiple technologies used in upstream and downstream processes allows us to accommodate the unique and individual nature of every contract manufacturing customer's project. The technologies and equipment are automated and engineered so that projects can be easily scaled, contributing to robust processes from development into GMP manufacturing. Our teams are cross-trained, which further contributes to a successful scale-up process as there is a continuity of process knowledge as the project moves through clinical phases to commercial manufacturing.
Learn More About Our Drug Substance Manufacturing
Aseptic Filling & Lyophilization
IDT Biologika provides sterile liquid and lyophilized fill-finish of vaccine products in vials and pre-filled syringes at clinical and commercial scale. We are continuing to grow capacity in our state-of-the-art, high-speed filling lines housed in dedicated buildings. We offer aseptic fill-finish, lyophilization, and secondary packaging at our facilities in Europe and North America.
Learn More About Our Aseptic Fill Finish
IDT Biologika is one of the world's leading contract development and manufacturing organizations (CDMO) for vaccines and viral vectors. We provide a full range of services capable of taking customers from the very beginning of their process to commercial supply.
Development & Manufacturing Services for Viral Vaccines and Viral Vectors
Drug Substance Manufacturing
Download Literature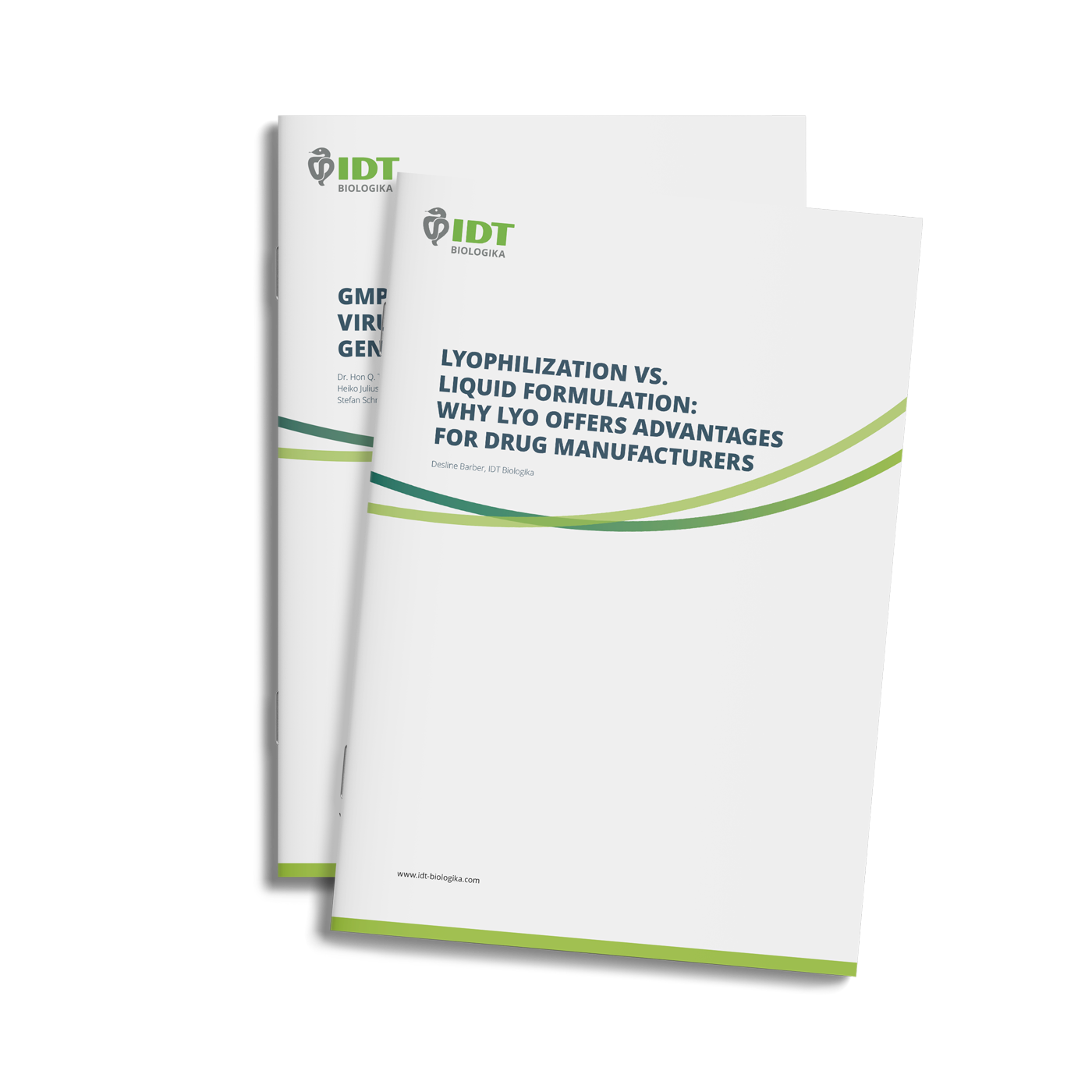 Please enter your contact information to download the Literature. Fields marked with a * are required.